---
Station Chairman's Great North Run
Written by PBHR Studio on August 4, 2021
Station chairman Craig Robinson is running the 2021 Great North Run to raise money for the CDDFT Charity.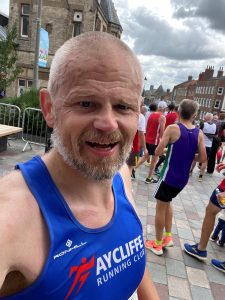 CDDFT Charity raises money to enhance patient care and well being across County Durham and Darlington. The charity has supported Prince Bishops Hospital Radio several times, particularly during the pandemic where they provided vital equipment to allow our presenters to broadcast from home. The creation of the studio facility at Darlington Memorial Hospital was also funded by the charity.
As the official charity for County Durham and Darlington NHS Foundation Trust, they use funds to buy medical equipment and supplies, support training and education and much more.
The charity works to enhance patient care and experience across eight main hospital sites, in community settings and in patients' homes. With your donation they can make a real difference.
At the moment the CDDFT Charity are fundraising for the children's emergency department at Darlington Memorial Hospital, the dementia unit at Bishop Auckland Hospital and the low risk maternity unit at University Hospital of North Durham.
He's ran the GNR a few times before, but this time he wants to break that 2 hour barrier.
---